PROS
Comfortable and secure fit
Loaded with premium features
IP55 rated earbuds and IPX4 rated charging case
Great Active Noise Cancellation performance
CONS
Slight distortion in bass and highs
No volume controls
LHDC codec supported only on a few phones
Verdict
The OnePlus Buds Pro is undeniably a good set of mid-range truly wireless earbuds with features like Active Noise Cancellation, app compatibility, Qi wireless charging, a long battery life, and more. At Rs 9,990, they're one of the most feature-rich sets of TWS earphones we've seen, especially at this price point. However, the OnePlus Buds Pro is eclipsed by some of its mid-range competitors.
ONEPLUS BUDS PRO DETAILED REVIEW
OnePlus has released its second true wireless product, the OnePlus Buds Pro, just a short time after ex-OnePlus co-founder Carl Pei introduced the Nothing Ear 1 true wireless earbuds. The OnePlus Buds Pro, which bears the 'Pro' name, is a feature-rich set of TWS earbuds that include Active Noise Cancellation, pressure-sensitive controls, Qi wireless charging, app compatibility, and much more.
The OnePlus Buds Pro is a mid-range truly wireless headphone that competes in price and functionality with the Oppo Enco X, Samsung Galaxy Buds Pro, and even the newly introduced Google Pixel Buds A-Series. On paper, it appears to be a highly enticing product filled with features often found on premium or flagship TWS earbuds. So, in our comprehensive review, we'll see how OnePlus' newest TWS product fared.
Also, See
ONEPLUS BUDS PRO: PERFORMANCE
Without further ado, let's dive straight into the performance of the OnePlus Buds Pro. The OnePlus Buds Pro is equipped with two 11mm dynamic drivers with a frequency response range of 20Hz – 20kHz. SBC, AAC, and LHDC codecs are supported by earphones. LHDC provides high-resolution, low-latency audio at sample rates of up to 96kHz and a maximum data transmission rate of 900Kbps, which is approximately three times that of the traditional SBC codec. Keep in mind that not all phones are capable of utilizing this codec. When we tried the OnePlus Buds Pro with a Samsung Galaxy S20 Ultra, we could only use the SBC and AAC codecs.
When it comes to the sound signature of the OnePlus Buds Pro, these earbuds offer a nice sound signature that not only emphasizes the bass, but also the mids. For objective testing, we utilize an iSEMcon measuring microphone in conjunction with an SLS audio adaptor designed specifically for evaluating IEMs. The Focusrite Scarlett 2i2 serves as our audio interface device. This is all connected to a PC running the SMAART-Di v2 software, which allows us to produce frequency response graphs for headphones, revealing their sound characteristic.
We discovered that the OnePlus Buds Pro had a V-shaped sound signature, but not a conventional one, in the uncompensated frequency graph that was created. Sub-bass has been emphasised, upper bass and lower mids have been underemphasized, and upper mids and highs have been emphasised. The graph shows that the lower bass frequency range from 20Hz to 80Hz is accentuated. This results in a bass-heavy experience with a snappy, powerful low bass response. You can sense the punchiness and weight behind the bass rhythms in Ed Sheeran's song Bad Habits around the 40-second mark where they come in.
Because the bass is increased in this range compared to the optimum range, there may be some boominess in some recordings. The frequency range from 100Hz to 500Hz, on the other hand, is exaggerated. Because this range contains a piece of the bass and parts of the mids, some of the detail in this section is obscured by auditory masking, which is caused in part by the exaggerated sub-bass and the underexaggerated upper bass and mids.
The frequency response graph shows a significant spike from 500Hz to about 9kHz, indicating that the mids and highs in this range are highly dominant in the mix. This works particularly well in tunes like Glass Animals' Heat Waves, where the bass is incredibly thumpy yet the vocals are also quite audible owing to the spike in that frequency band.
However, as a result of this, there is considerable sibilance and shrillness in the mix, especially at higher levels. At greater levels, we also found that the bass and highs are occasionally distorted.
The OnePlus Buds Pro features a pleasant sound profile, especially for those who want their music to have a little more punch in terms of bass response. The voices and instruments are largely audible in the mix, although there is considerable detail loss due to a substantial fall in audio reproduction from 100Hz to 500Hz. It is not particularly obvious to the layman, but attentive listeners and audiophiles will immediately recognize that fault.
In any case, these earbuds are not for purists or audiophiles because they deviate significantly from the ideal flat response. However, if you're a typical customer, you'll undoubtedly appreciate the dynamic character of the OnePlus Buds pro's sound profile. Furthermore, given the price, the buds have a rather large soundstage, with a lot of breadths and some vertical height. The imaging is quite excellent, and the instrument separation is good.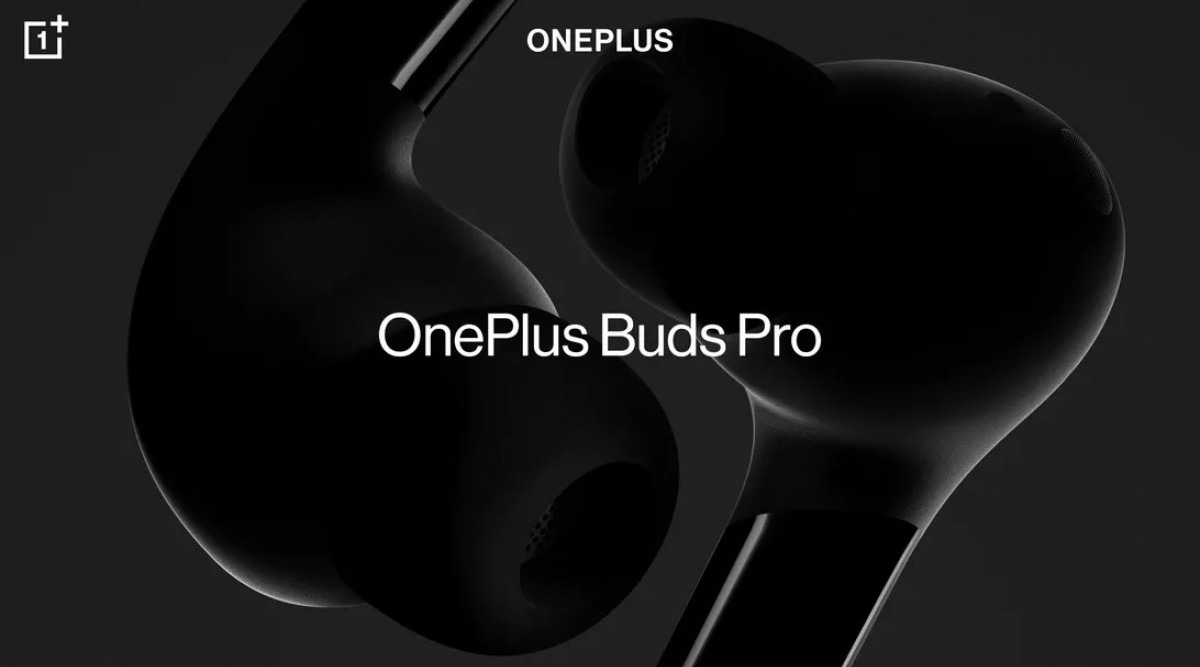 Overall, these buds are fun to listen to, and bassheads will appreciate the sound character; but, at a comparable price, the Oppo Enco X offers a more balanced sound signature thanks to its coaxial twin driver arrangement. We had a wonderful experience listening to genres such as pop, rap, EDM, Bollywood, and even rock using the OnePlus Buds Pro.
The earphones are also suitable for listening to podcasts and viewing television shows or movies. For the most part, the noises are powerful, and the speech is decent and clear. The earbuds only work with OnePlus handsets and enable Dolby Atmos, which allows users to enjoy immersive sound akin to spatial audio.
Now let's talk about microphone performance. The OnePlus Buds Pro include a triple microphone system, a mechanical construction that reduces wind noise, and a noise reduction algorithm for calls. During our testing, we discovered that the microphone was rather poor. In an indoor situation, audio recordings and phone conversations seem muffled and jumbled. Our speech was heard, but it wasn't the cleanest experience we've had with TWS mics in this price category.
Moving on to wireless communication, the OnePlus Buds Pro are equipped with Bluetooth 5.2. Throughout our testing, the wifi connectivity was rock strong, with no connection dropouts or latency. You may go a long distance away from the source device before the connection breaks. When streaming video or playing games, there is also very little apparent latency, indicating that the buds are quite reliable in terms of wireless connectivity.
A benefit for OnePlus users is the ability to quickly link with a OnePlus device. Simply opening the case will bring up a popup prompting you to connect the buds to your OnePlus phone.
ONEPLUS BUDS PRO: ACTIVE NOISE CANCELLATION, APP SUPPORT, AND OTHER FEATURES
The OnePlus Buds Pro are TWS earbuds with a lot of features. In terms of functionality, it appears like OnePlus has left practically no stone untouched with these buds. Almost every current function found on TWS earbuds is included on these mid-rangers, which is very amazing. The main feature is Active Noise Cancellation, which is increasingly being featured in mid-range and even inexpensive TWS earbuds.
The OnePlus Buds Pro has three levels of hybrid ANC. Users can select among three modes: Extreme, Faint, and Smart. The Extreme mode is said to give noise cancellation of up to 40dB, while the Faint mode is said to offer noise cancellation of up to 25dB. There was a noticeable distinction between the two. Smart mode employs Smart Adaptive Noise Cancellation technology, which listens to your surroundings and changes the noise-canceling level accordingly. We utilized the smart mode infrequently because we primarily employed Extreme level ANC, but in the few outside testing we conducted, the earbuds did automatically transition between noise canceling levels.
In terms of Active Noise Cancellation quality, the OnePlus Buds Pro's ANC surprised us tremendously. Not only did it effectively block out low and steady sounds, as do other TWS earbuds, but it also blocked out certain human voices and even high-frequency sounds like a high-speed fan and a mechanical keyboard. These high-frequency noises were not entirely silenced, but they were significantly reduced.
Low, continuous noises like an air conditioner's hum were muffled to the point that we couldn't hear it at all. So it's on par with the Oppo Enco X in terms of noise-canceling, and it's even close to the Samsung Galaxy Buds Pro. For the price, this is rather remarkable. The Transparency Mode function on the earphones was also performed as planned. It didn't sound artificial, and the surrounding noises were properly enhanced.
The pressure-sensitive buttons on the stems of the earphones may be used to turn the ANC on and off. A one-second press on either side cycles between the ANC and Transparent modes. The pressure-sensitive controls may also be used to pause/play music, skip songs or return to the previous one, engage the voice assistant, and enter Zen mode.
The controls took some getting used to at first because we are used to traditional touch controls, but once we did, we realized that we prefer them to traditional touch controls because of how responsive the pressure-sensitive area is and because accidental presses are rare compared to traditional touch controls.
When it comes to touch controls, you may customize some of them using the HeyMelody app for Android and iOS devices, as well as the OnePlus device's native Bluetooth settings. We tried these buds with a smartphone that wasn't a OnePlus, so we had to download the HeyMelody app to get these capabilities. Users may customize the triple squeeze control and the squeeze and hold control within the app. By default, triple pressing returns to the previous track, however you may modify this to enable voice assistance on one or both ears.
The press and hold feature only cycles through ANC and Transparency mode by default, however you may pick ANC off as a third option within the app. Other controls, such as Quick Squeeze and Double Squeeze, cannot be customized, which is frustrating. The absence of volume controls is even more frustrating. Even with the app, there's no way to regulate volume on these buds. So, while the OnePlus Buds Pro offers adjustable controls, there aren't many options for customization.
Within the app, users can only change between ANC on, ANC off, and Transparency mode, apart from touch controls. You'll need to utilize your app to choose between Faint, Extreme, and Smart ANC modes. You may also enable Zen Mode by long-pressing the pressure-sensitive region for three seconds within the app. Zen mode uses white noise and peaceful natural sounds to assist people to relax or sleep. Within the program, you may pick from five distinct forms of White Noise.
The OnePlus Audio ID function in the app is essentially a hearing test that determines your particular hearing ability and adjusts the sound of the earphones appropriately. For the most part, we tested the earbuds on their default settings. However, we tried out the Audio ID function for a while and didn't detect any significant differences. This feature, on the other hand, might be a fantastic addition for those with serious hearing impairments. There's also an earbud fit test that plays a sound to see if the ear tips you're wearing are providing a good seal. Another useful feature that we like.
Aside from that, you can use the app to update the firmware on your earphones and case, as well as check the battery %. It's good software with a lot of capabilities, but it lacks an adjustable EQ and no preset EQ profiles, which is a shame because cheaper devices like the Nothing Ear 1 and Realme Buds Air 2 at least offer preset EQ profiles.
When it comes to OnePlus Buds Pro features, this isn't it. The OnePlus Buds Pro, true to its Pro name, comes with a slew of extra capabilities. Let's make a list of them.
The buds offer an IPX4 water resistance rating for the charging case, as well as an IP55 dust and water resistance grade for the earbuds themselves. This is quite uncommon, and it's almost never seen in premium TWS. As a result, you don't have to worry about perspiration or minor splashes of water damaging the earphones or charging case.
The buds also have Qi wireless charging for the case, allowing you to charge it at 2W on a Qi-compatible wireless charger or even the back of some phones. OnePlus smartphones running OxygenOS 11 and higher can make use of the 94ms low latency Pro Gaming Mode. This isn't available to users of other devices, which bothered us a little, but we'll make due.
There's also Type-C charging, which supports OnePlus' Warp charge, as well as Wear recognition, which can automatically pause or play music based on whether the buds are in your ear. Furthermore, each earbud may be utilized independently of the others, allowing you to listen to music even when one is still in the case.
The only thing that's absent that we can think of is a multipoint connection where you can connect the buds to two devices simultaneously. Nevertheless, we can't really complain about that given the sheer number of features that OnePlus has provided at this price. It is one of, if not the most, feature-rich TWS in the mid-range segment, no doubt.
ONEPLUS BUDS PRO: BATTERY LIFE
On really wireless earbuds, battery life is quite essential, and truly wireless earphones have undoubtedly become better in this aspect as the years have passed. According to the firm, the OnePlus Buds have a battery life of 38 hours when using the earbuds and charging case together. With ANC switched off, the buds have a runtime of up to 7 hours, with the charging case providing an extra 31 hours of playtime. According to OnePlus, if you keep the ANC on all the time, you'll get a total battery life of 28 hours, with 5 hours on the buds and 23 hours on the charging case.
With ANC switched on and 60-70 percent loudness, the buds lasted 4 hours and 50 minutes, which is fairly near to the company's prediction. The case was also capable of charging the buds four to five times. This is far better than the Samsung Galaxy Buds Pro's paltry 16 hours of overall battery life with ANC on and the Oppo Enco X's 20 hours.
The OnePlus Buds are compatible with OnePlus' well-known Warp Charge technology. With only 10 minutes of charging, you get a staggering 10 hours of playing – 2 hours on the buds themselves and 8 hours via the charging case.
It takes around 30-40 minutes to fully charge the earphones from empty to full. You may also use any Qi compliant wireless charger, even the backs of select smartphones, to charge your phone. Although the charging speed is much slower, it's still good to have the choice.
ONEPLUS BUDS PRO: BUILD AND COMFORT
Simple, yet lovely. When you look at the OnePlus Buds Pro, these are the words that spring to mind. The earbuds come in two colors: glossy white and matte black, which we received for evaluation. Each earbud is only 4.35 grams, but the charging case is 52 grams. The earphones are incredibly light, which undoubtedly contributes to overall comfort.
The buds are quite pleasant to use for extended periods of time, and we didn't experience any ear fatigue throughout our 3-hour listening marathon during testing. Parts of the buds are matte, while others are glossy, giving them a pleasant dual-tone appearance. The earphones' stems are shiny, while the bulb-shaped earbud and angular nozzle are matte.
The angled nozzle ensures a comfortable fit that remains there throughout even the most strenuous exercises. When you move your head quickly, there is a tiny shuffling, but the fit is still solid. In addition to a USB Type-C charging cord and some paperwork, the firm includes three pairs of silicone ear tips in the box. The dual-tone texture and basic shape give the earphones a minimalist yet elegant appearance.
The charging cover features a matte appearance with the exception of the OnePlus logo, which is glossy. Again, extremely simple and elegant. Because the casing is relatively flat, it is readily portable and does not protrude excessively from pockets. The case features a front indent that makes it easier to open; you can even open it one-handed, though it's not simple to do consistently.
ONEPLUS BUDS PRO: VERDICT
The OnePlus Buds Pro is undeniably a good pair of mid-range truly wireless earbuds with features like Active Noise Cancellation, app compatibility, Qi wireless charging, and lengthy battery life. They're one of the most feature-rich sets of TWS earphones we've seen, especially at this price point, with a price tag of Rs 9,990. They are also well-made, have a basic yet elegant appearance, and are quite comfy.
However, in the mid-range sector, the OnePlus Buds Pro is eclipsed by some of its competitors. The Oppo Enco X has a more detailed and balanced sound signature, but the Samsung Galaxy Buds Pro not only has better sound but also has somewhat superior ANC. More affordable alternatives, such as the Nothing Ear 1 or the Realme Buds Air 2, provide many of the same capabilities as the OnePlus Buds Pro but at a far cheaper price.
As a result, the OnePlus Buds Pro finds itself in the middle of a crowded field of competitors who provide greater audio quality, ANC, or just better value for money. This isn't to say that these guys aren't capable TWS mid-rangers; they are. However, in the very competitive world of TWS earphones, the OnePlus Buds Pro falls short of having that one area where they totally outperform everyone else. However, the OnePlus Buds Pro are all-rounders that excel at most tasks, so there's little to criticize, but also little to praise.
ONEPLUS BUDS PRO KEY SPECS, PRICE AND LAUNCH DATE
| | |
| --- | --- |
| Price: | ₹9990 |
| Release Date: | 23 Aug 2021 |
| Variant: | None |
| Market Status: | Launched |